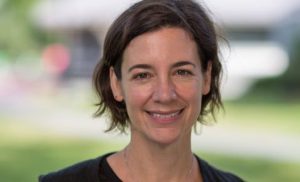 English Professor Deanne Williams has been awarded a 2018 Killam Research Fellowship by the Canada Council for the Arts, to undertake the first ever study devoted to the history of the girl actor from the Middle Ages to the English Revolution.
Williams, who is a Professor in York's Department of English, Faculty of Liberal Arts & Professional Studies, has been awarded the fellowship for humanities for her project The Girl on Stage in Early Modern England. A scholar of Medieval and Renaissance literature, in 2014 she published Shakespeare and the Performance of Girlhood, the first scholarly study devoted entirely to the subject of girls and girlhood in Shakespeare.
"The Killam Research Fellowship is a wonderful recognition of the value of research that can change the way we look at history and the world today," said Robert Haché, vice-president research & innovation at York University. "We're very proud of Professor Williams' contributions to the humanities, one of the core strengths of York University."
Her Killam Fellowship study will challenge long-held assumptions about when girls first took to the stage, demonstrating that from the earliest English dramatic culture, girls took speaking parts and performed as dancers, singers, and musicians.
Killam fellowships provide $70,000 in funding annually for two years so six outstanding scholars can focus their time and energy on groundbreaking projects in the humanities, social sciences, natural sciences, health sciences, engineering and interdisciplinary studies.
In 2014, Williams won a 5-year SSHRC Insight Grant for her new project, Girls and their Books in Early Modern England. Late last year she was inducted to the Royal Society of Canada as a 2017 New College Inductee in the College of New Scholars, Artists and Scientists.